As a property management company or a landlord, it is part of your obligation to conform to fire safety rules for the safety of your properties and tenants. You need to provide clear evidence that you have done everything possible, within reason, to protect your tenants and properties from smoke and fire damage. This will include fitting the appropriate fire alarms and ensuring all the furniture you supply is fire safe.
You need to always keep up to date and ask for advice from your local authority to ensure you are following the latest rules and regulations.
Our fire safety regulations for landlords guide outlines what landlords and property management companies must do to comply with the latest legislation for fire alarms, general fire safety and fire doors.
What are the fire safety regulations for rental properties?
Landlords and property management companies are responsible for fire safety in properties they intend to let, but what are the exact laws?
The fire safety regulations for rental properties are covered by several Acts. For your convenience, we have provided links to each of the relevant laws. Please note that these requirements can vary from one UK country to another, so always check on your local authority's interpretation where necessary.
Homes (Fitness for Human Habitation) Act 2018
On 20th March 2019, this new law came into effect to ensure that rented flats and houses are 'fit for human habitation', meaning that they are safe, healthy, and free from faults that could result in serious injury. This includes fire safety if the rental property is unsafe to live in. While this doesn't add further responsibility to you as a landlord, it does give you improved access to your property if it's in need of repair, and it also allows tenants to take legal action against you if the property is unfit to live in.
Building Regulations
Building regulations have an influence on fire safety and will apply to you if you are refurbishing an existing property or building a new one before you let it. You must ensure that all work carried out obeys the legal requirements.
Even if you're hiring people to do the work, you are still responsible for ensuring their work meets lettings standards, not just those of a homeowner.
If you have a House in Multiple Occupation (HMO), you need to follow even more specific fire safety regulations, such as providing fire blankets and fire extinguishers. However, the exact fire safety requirements can vary between local councils, so it's best to check the latest building regulations with the housing department of your local authority.
The Housing Act 2004 and the Housing Health & Safety Rating System (HHSRS)
The HHSRS sets out that landlords need to ensure that their tenants are safeguarded from accidents such as fires, electric shocks, scalds, and burns.  Some of the responsibilities of a landlord include:
Ensuring no fire hazards are near areas where fires may start (e.g. no combustibles are stored near fuse boxes or boilers).
Ensure all electrical appliances have a British or European safety mark.
Keep escape routes clear of obstacles and check your tenants understand they need to do the same.
Check the display labels that manufacturers are legally required to provide that state they are fire safe.
Check that all electrical appliances you provide have had an annual portable appliance test.
Only allowing a 'spark' type appliance to be used when lighting a gas cooker, instead of using matches.
Some of the health and safety regulations can be interpreted differently by local authorities, so to make sure you're in full compliance, you should contact your local housing authority officer about the main things they look out for.
The Regulatory Reform (Fire Safety) Order (2005)
To ensure your rental property meets fire safety standards, you need to be able to correctly assess the potential fire risks. You can learn what needs to be done to be considered a 'competent person' to carry out such an assessment. Or you can use a third party, such as a professionally qualified Fire Risk Assessor.
The first Safety Order is vital but can be difficult to action. This involves ensuring that communal areas such as kitchens, stairways and landings are kept clear of combustible items. Not only does this help decrease the risk of fire in escape routes, but it helps people to escape more quickly in the event of a fire.
Unfortunately, this isn't easy to enforce because, no matter how diligent you are, your tenants won't always follow the rules.  However, to prove that you're doing your utmost to abide by fire regulations and trying to keep communal areas free of fire hazards, you should provide your tenants with a document that explains fire safety to them and carry out periodic fire risk assessments.
If you have properties with communal areas, check out this useful government guide to fire safety.
Furnishings and Furniture (Fire Safety) Regulations 1988/1989, 1993 and 2010.
Furniture and furnishings provided in the rental property must meet fire safety standards and need to be made from fire-resistant material. You can check labels that manufacturers have to legally supply. However, some items that may not have labels include bed-bases, pillows, mattresses, covers and cushions. You can always speak to the manufacturer you purchased from to ensure the items meet these regulations.
When carrying out periodic inspections of your property it's vital to check that your tenants haven't removed any of these labels without your knowledge. It's worth recording any such changes on the inventory report and taking photographs as evidence.
One of the key reasons an inventory report is a vital part of fire safety requirements is that it provides an independent record of what you put in the property. If a fire breaks out due to something your tenant had added that wasn't safe from a fire perspective, you can confirm that it wasn't your fault.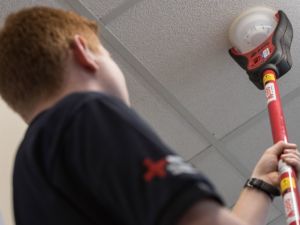 What are the fire alarm requirements for landlords?
According to the 'Smoke & Carbon Monoxide Alarm (England) Regulations 2015 act, every property rented out by landlords and property management companies within England should:
be fitted with a carbon monoxide alarm in any room containing a solid fuel-burning appliance. Gas appliances do not currently require one.
have at least one smoke alarm for each floor of the property which is used as accommodation (including toilets and bathrooms).
ensure each alarm is tested at the beginning of each new tenancy to ensure they are working – you should get your tenants to sign a document, perhaps on the inventory, to confirm this has been actioned. Once the tenancy has commenced, the tenants are responsible for testing that the alarms are in working order.  Tenants can replace the batteries within alarms but if the alarms need to be replaced, that should be actioned by the landlord.
it's good practice to ensure alarms are tested periodically
The government is currently considering extending the need for a carbon monoxide alarm to all rooms used for accommodation that contains a gas boiler or fire, but this is yet to be confirmed.
What are the fire alarm requirements for HMOs?
If you're an HMO landlord, you are legally required to ensure:
a smoke alarm is installed on each floor with living accommodation
a heat alarm is installed in high-risk areas such as the kitchen
a smoke alarm is installed in each individual area – whether that's a bedsit or a bedroom
alarms need to be interconnected and mains powered
properties containing at least three floors or need to have an appropriate alarm system that's fitted with a central panel
the alarm system is kept in excellent working condition and is maintained according to the manufacturer's instructions – this could be every six months
Upon request by your local authority, you can supply necessary evidence of periodical inspections/servicing
Fire safety in flats
If you're renting out a flat, you have the responsibility to carry out all required checks on the flat itself. However, if you own a whole block of flats, you're not only responsible for the internal space within each property but also for the communal areas. You also need to ensure that there's a 'responsible person' accountable for the overall fire safety for your block of flats. If that's your managing agent, you should find out what checks they are making and what precautions they are taking.
As a landlord, regardless of whether you own one flat or a whole block, you need to ensure that the front doors are compliant with fire safety regulations – this includes:
Fitting self-closing front doors
Ensuring front doors are fire-proof
Any paint used on front doors is fire-retardant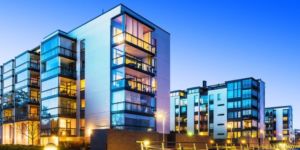 Fire safety in Houses of Multiple Occupation (HMOs)
HMOs have different fire safety rules, especially larger HMOs requiring a licence. This is because the potential for accidents, misunderstanding and risks are increased when several tenants live together who don't know each other.
Fire safety rules and regulations include:
ensuring all required equipment, such as fire blankets (especially in the kitchen), fire extinguishers (one on each floor) and fire alarms are all installed correctly and in excellent working condition
keeping all exits clear from obstacles
clearly marked fire exits and instructions provided on what to do in case of a fire must be easily available to tenants
certified fire doors must be equipped where required
Electrics are inspected at least once every five years (see EICR requirements)
Annual gas safety checks
Ensuring any furnishings and furniture meet fire resistance regulations
It's best to keep in touch with your local authority, as regulations can vary in places, and it's important to keep up to date with the latest guidance.
Electrical safety certificates
More than half of accidental fires in domestic properties are caused by electricity, mostly due to electrical products. For example, almost half of electrical fires begin in the kitchen, with white goods and cooking appliances the primary cause.
With that in mind, you need to ensure that all electrical installations within your rental properties are safe. This includes all sockets, light fittings, circuits, kettles, cookers and other electric appliances.
From 1st April 2021, new regulations came into effect requiring all landlords within England to have electrics inspected by a qualified electrician at an interval of at least every five years. Landlords are required to provide a copy of the electrical inspection condition report (EICR) to new and existing tenants and to their local authority if requested.
Register your electrical appliances
If you're supplying any electrical appliances as part of a tenancy agreement, it is also good practice to register the appliances with the manufacturer so that if there are any problems, they can contact you. You should suggest to your tenants that they do the same for any electrical products they bring to the property.
Fire door rules for HMOs
Fire doors are a legal requirement for Houses in Multiple Occupations nationwide. If you're an HMO landlord, you need to ensure:
fire doors are fitted to rooms where there's an increased risk of a fire starting, such as the kitchen
all fire doors are equipped with a 'closer' to ensure they close automatically
all doors leading to an escape route are fire-resistant
any door on an escape route that locks (such as front and back doors) has a 'thumb-turn' lock on the inside to enable it to open without a key
Fire door rules for single-let properties
If your rental property is not part of an HMO, you're not legally required to have fire doors fitted.  However, landlords in England should check with their local council if they have a selective licensing scheme in place that requires additional fire safety obligations such as fitting fire doors.  Even if your single-let property doesn't need a license, it's still a good idea to fit fire doors and especially for kitchens.
How can landlords stay ahead of changes to fire safety regulations?
We advise that all landlords and property management companies stay on top of the changing rules and regulations and refer to your local authority for advice.
For landlords, it's also worth checking with your agent whether their terms and conditions mean they take responsibility for any fire safety violations. However, if you're still responsible, you will need to comprehensively understand their work to ensure your property meets the required standards.
Remember that each country within the UK has its own regulations:
Familiarise yourself with the resources on your local authority's website and keep an eye on national news that could impact you or your rented property. If you don't keep up with the latest fire safety regulations, you could end receive a big fine.
Fire alarm installation, testing and maintenance for landlords and property managers
As a BAFE and NICEIC registered company, we provide end-to-end fire system solutions for landlords and property management companies.
We can install all types of fire detection systems, ranging from small domestic installations suitable for houses, flats, and HMO dwellings, to commercial systems suitable for large scale residential buildings.
We also provide full fire alarm maintenance, testing and inspection services and can provide 24/7 cover with a low-cost annual service contract, which includes reduced call-out rates for our contracted clients.
Get in touch for a quote or click here for further information on our fire alarm services.