NHS Supply Chain – Electrical solution for the PPE Dedicated Supply Channel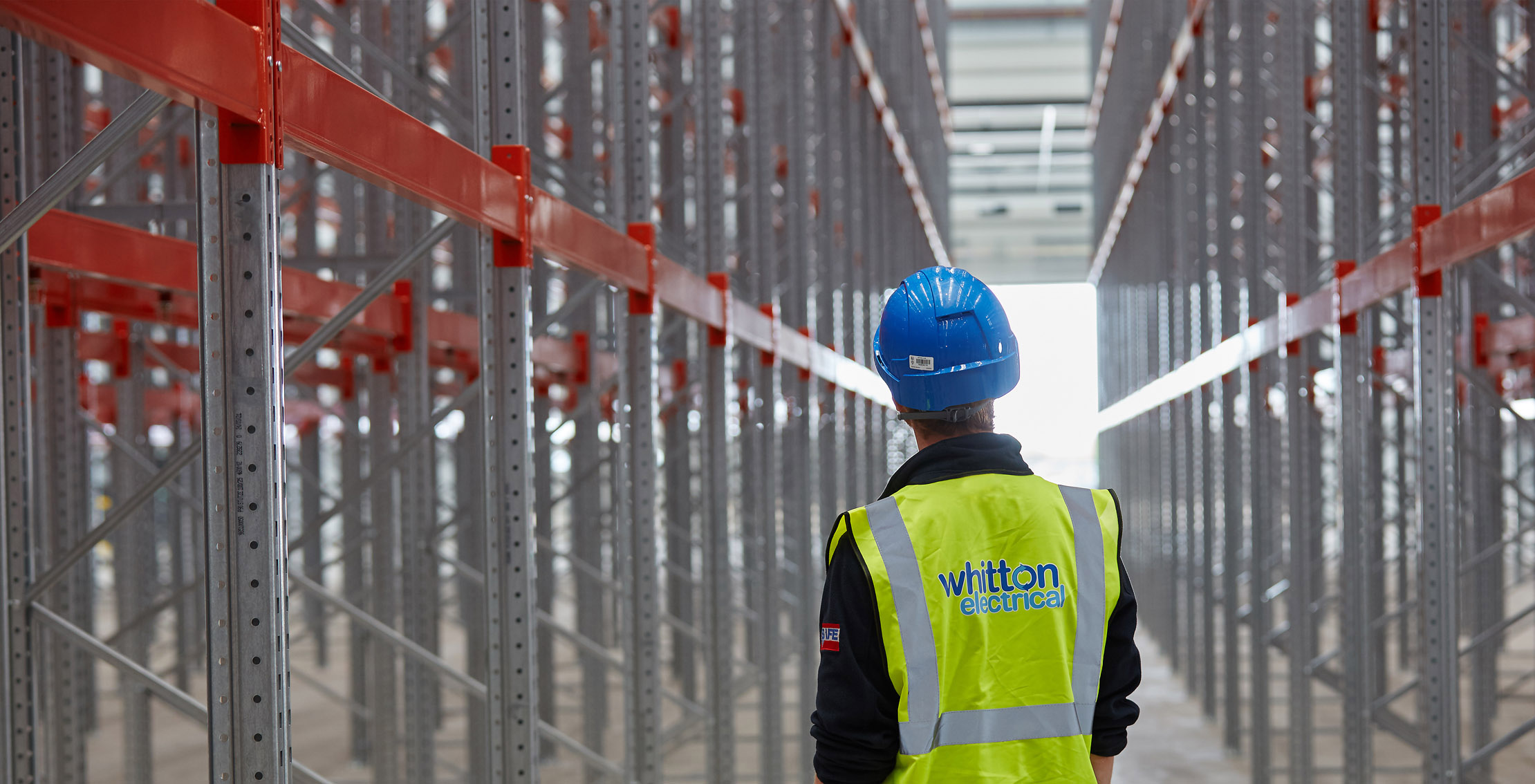 About NHS Supply Chain & Clipper Logistics
Since April 2020 Clipper Logistics have been responsible for the distribution of all Personal Protective Equipment (PPE) within the NHS Supply Chain "PPE Dedicated Supply Channel". The PPE Dedicated Supply Channel is a parallel supply chain to the normal NHS Supply Chain service. It has been set up to meet the urgent volume requirements for core PPE items.
This restructuring was in response to the COVID-19 pandemic and since April 2020 all PPE supplies for the NHS PPE Dedicated Supply Channel are processed through the central warehouse in Daventry before being distributed to regional e-Portal warehouses.
From 9 April 2020 to 31 August 2021, over 4.3 billion PPE items have been ordered through the e-Portal and processed through the Daventry central warehouse.
The Challenge: Workforce and Supply Chain management during the COVID-19 lockdown
In response to the Covid-19 pandemic, NHS Supply Chain required a huge increase in capacity for the storage, processing, and distribution of PPE. This featured a complete electrical solution & warehouse & office fit out of a 535,000 sq ft warehouse unit, including the design, installation, and commission of lighting, switchgear, forklift truck (FLT), HVAC, data, UPS, and fire alarm supplies, working as the electrical solutions partner to storage and materials handling solution specialist, AGF UK Ltd.
As this project was installed during the height of the COVID-19 pandemic, we had to implement strict working practices to ensure worker safety whilst ensuring a critical element of the national PPE supply chain came on line as quickly as possible.
In addition to the workforce challenges, logistically this was a complicated project due to supply chain disruptions as we faced scarcity for complicated components such as lighting processors and microchips and even simple raw materials such as copper and steel. This led to us having to adopt an agile approach with a lot of electrical solution redesigns being implemented mid project.
Outcome: A complete electrical solution for the PPE Distribution Supply Channel warehouse
Having achieved practical completion within just 8 months, we are especially proud of the team who worked on the Daventry 535 project. It is fair to say that given the level of stress everyone was under during the height of the COVID-19 pandemic, the challenges we faced to keep this project on track, and the importance of its completion, everyone involved was very satisfied with the outcome, allowing NHS Supply Chain to greatly increase its PPE distribution capability.
The project included the complete design, installation, and commissioning of lighting and emergency lighting throughout, and electrical supplies for forklift trucks, HVAC, data, fire alarm, and uninterrupted power supply UPS, including the upgrade of the main warehouse switchgear.
Works within this project included:
Lighting installation
Main switch gear upgrade
CAT A Office fit out
FLT Supplies (Forklift Truck)
Control wiring for HVAC
Data & UPS supplies
Generator change over
Fire alarm supplies
Data containment
Large cable pulls
Lighting component partners: Zumtobel | Thorn Lighting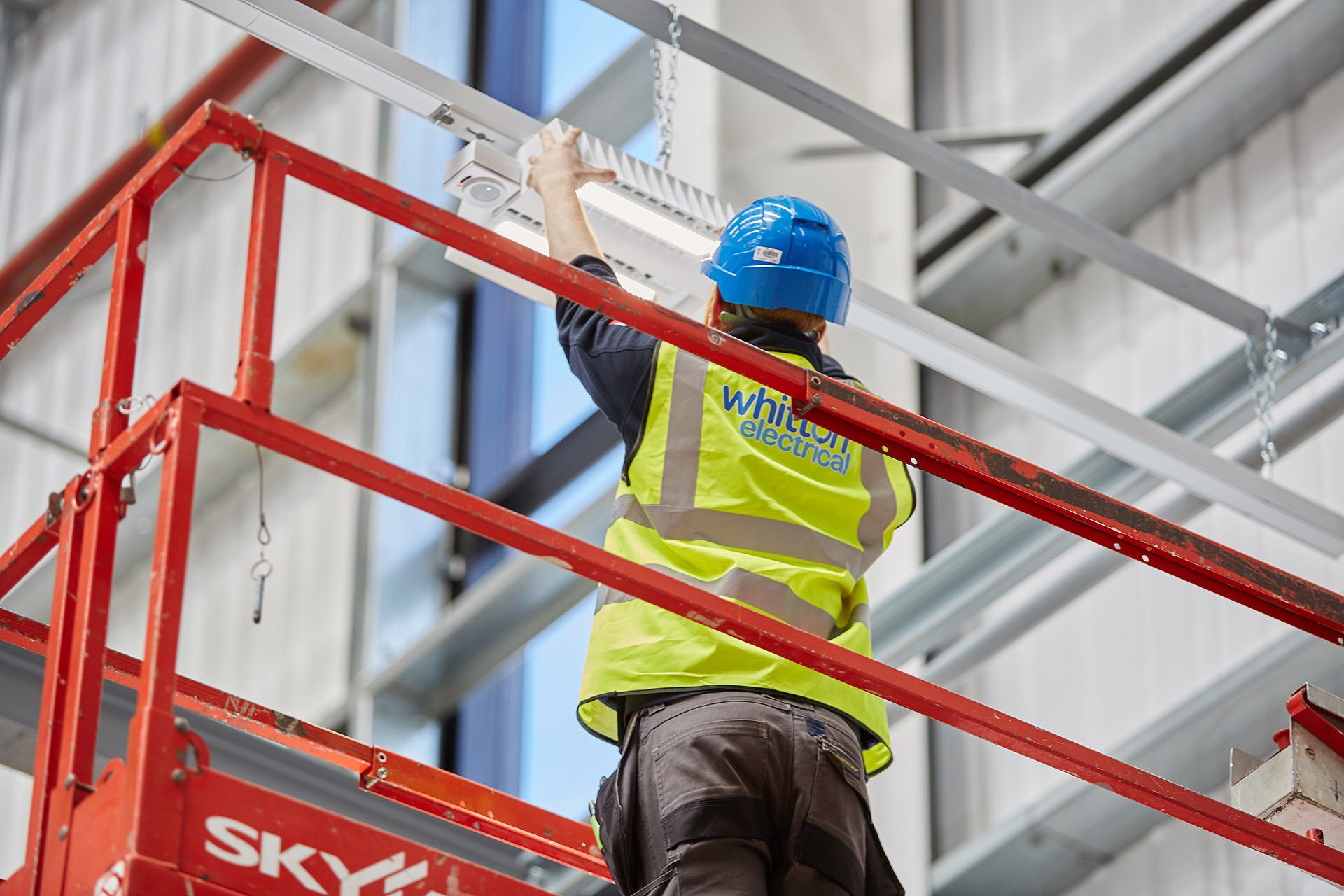 Lighting installation for the NHS Supply Chain electrical solution
Whitton Electrical van on site at Daventry 535 – NHS Supply Chain.  
Do you have a new warehouse design or other commercial project you would like to discuss? Why not speak to us for a free consultation.
Whitton Electrical are available for all types of lighting, electrical, and fire alarm system design, maintenance, testing and inspection services across the whole of the UK.